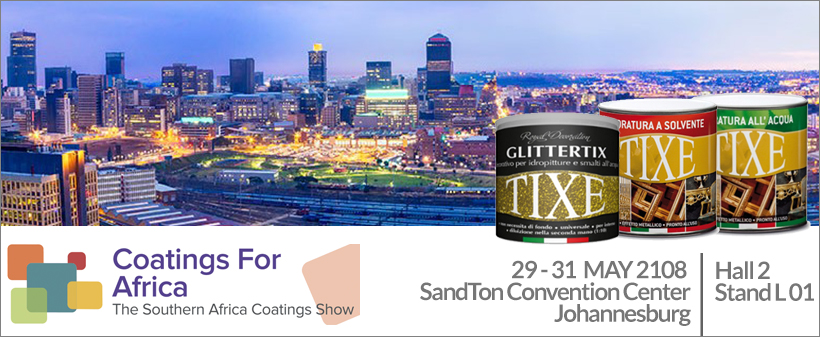 Tixe at Coatings For Africa in South Africa
On 28 May 2018
0 Comments
From 29 to 31 May 2018 we will be exhibiting our paints at Coatings for Africa, the most important paint fair in Johannesburg and South Africa.
Coatings for Africa 2018 is an event in collaboration with the South African Paint Manufacturers Association (SAPMA) and the Oil & Colour Chemists' Association (OCCA). The event links the entire value chain of paints and coatings, from suppliers of raw materials to end users of the finished product.
The fair brings together more than 1400 participants from 35 countries (including 12 African). It is the ideal place to discover the latest trends that will influence the nation's environmental, manufacturing and industrial needs and will be a fantastic networking opportunity for the paint industry.
It will be an opportunity to show the complete range and quality of our Made in Italy products, meet new customers, develop a personal relationship with customers and find new agents and distributors for our products in South Africa.
We look forward to seeing you at the SandTone Convention Center in Johannesburg Hall 2 Stand L 01.